Sister Dana sez, "Now that Pride is over, are we supposed to feel shame? Just kidding! Pride is every day!"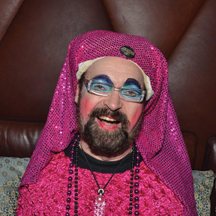 Sister
Dana
sez, "Now that Pride is over, are we supposed to feel shame? Just kidding! Pride is
every
day!"
Sister Dana thoroughly enjoyed being the rainbow nun in the
San Francisco Bay Times
contingent #099 of the Parade. Our contingent included board members and volunteers of the
RAINBOW HONOR WALK
organization, highlighting legendary LGBT community leaders represented in the sidewalk plaques installed in the Castro neighborhood, where Rainbow Honor Walk founder
David Perry
rode as well. I was on the top of the double-decker bus with the
OAKLAND INTERFAITH GOSPEL CHOIR
. Joining our team were city officials, such as Oakland City Councilmember at-Large and
San Francisco Bay Times
columnist
Rebecca Kaplan
and her wife,
Pamela Rosin
. Sister Dana loved blowing kisses to the crowd and flashing peace & love signs—and receiving the same back from those loving people! I even got four seconds of fame on the KOFY-TV broadcast!
Just before the City came to dismantle the Orlando victims' memorial in the Castro, several of us
SISTERS
OF PERPETUAL INDULGENCE
held a
CLOSING RITUAL AT THE ORLANDO MEMORIAL
on the corner of 18th and Castro—known back in the day as Hibernia Beach. "I hate to see it go, as we are still raw from this act of violence, but the recent accidental fire has made it necessary for it to be dismantled," said Castro Business District executive director
Andrea Aiello
. The memorial went up immediately after the shooting two weeks prior, which claimed the lives of 49 people at a gay nightclub in Orlando, Florida.
Sister
Merry Peter
acted as host for the ceremony, which drew close to a hundred people. Cleansing sage and smudge were distributed by Sisters, ministers, and leaders. As the majority of the Orlando people murdered were Latinx, it was appropriate that
Ruben Martinez
of
INSTITUTO DE LA RAZA
open the circle in Spanish, with translation following in English.
Rev. Megan Rohrer
from Grace Lutheran (wearing a rainbow t-shirt with the punny phrase: "This is the
gay
that the Lord has made" proudly emblazoned) invited the community to share from their hearts (words, song, movement). Politicians, community leaders, and ministers were all invited to join in.
The next day, several of us Sisters and our friends assembled in Pink Triangle Park in the Castro to be led by
Sister
Kitty Catalyst
in a First Friday Darshan Parade down Market Street—offering ritual blessing, love, and peace in the gayborhood....